To each their own cocktail!
The first thing you notice when you take a seat in downtown Québec City's Mælstrøm, are the rows upon rows of bottles lining the back bar. A wide selection of rums, gins, whiskies, amaros and vermouths, all just waiting to be used in one of the establishment's many signature cocktails, or in a custom drink should you prefer.
Diversity and a personal touch are the guiding principles behind this laid-back and inviting bar, where beverages range from morn­ing coffees to evening cocktails. Drinks are served with lunch, weekend brunch, and during music concerts. "I love making our guests feel welcome," exclaims Jérémie Brunet, Head Mixologist and designer of the bar's cocktail menu. Prior to working at Maelstrøm, Brunet managed the bar at a restaurant with a turnover of 450 people each night — a hectic pace that taught him the art of working fast and efficiently. However, the seasoned mixologist much prefers a relaxed beat, so he can enjoy quality time with his customers.
Maelstrøm is tucked a few streets back from the city's main arteries, so it's a bit of a detour to get there — but it's definitely worth it. Brunet takes pride in offering impeccable service and delicious drinks: "Our menu includes about 75 cocktails; we have everything from the classics to one-of-a-kind creations. Most of the time, however, the customers don't even look at the menu, they just ask us to whip them up something good!"
So how exactly does Brunet go about creating a custom drink? He starts by asking customers to pick one of four flavour profiles: bitter, tart, strong or refreshing. "From there, the possibilities are endless, but it steers me in the right direction. For example, it means I won't offer a spritz to someone who is more in the mood for an Old-Fashioned."
Brunet also tries to steer clear of stereotypes: "For me, there's no such thing as a 'girly cocktail' or a 'manly drink.' I know plenty of women who love Old-Fashioned-type drinks, such as the Vieux Carré and the Sazerac, that some men find too strong." When Brunet creates a cocktail, he relies on the personality and tastes of the person he's making it for — he doesn't judge.
With a penchant for distinctive and diverse flavours and top-quality ingredients, Brunet enjoys helping his customers discover new things, and even coaxes them to fall in love with what they might think they dislike. "When someone tells me they really don't like something, it's usually because of a bad experience they've had with that particular product. By focussing on a product's diversity and quality, I can often get my customers to enjoy flavours they never thought they could."
A cup of coffee with that?
And speaking of variety, it might be surprising to discover that despite its fame in the realm of cocktails, Maelstrøm actually built its reputation on… coffee! When it opened in 2015, Maelstrøm was the first café in Quebec to serve cold-brew coffee. At the time, cold-brew was their signature drink and what made them famous; it was even bottled and sold in specialty shops, as well as served onsite.
As Brunet likes to point out, cold-brew coffee is a great way to start your day, and it works well in cocktails too! Just make sure you don't order one too late at night…
"When Maelstrøm first opened, we featured our coffee in contests and everyone loved it! On our cocktail menu, our coffee Negroni is one of our top sellers."
While most coffees exude bitter notes, Maelstrøm's house coffee stands out for its slightly acidic taste. It's great served as is, as well as in cocktails. It's deliciously versatile!
Although a bitter profile might scare some mixologists, Brunet enjoys taking his customers on a journey of discoveries, and loves using vermouth, amaro and other bitter liqueurs to highlight the flavours in his drinks. "The key to using bitter flavours is balance. When properly integrated, almost everyone enjoys them. Also, it's always best to start people off slow with a Montenegro, rather than a more intense Fernet." As always, Brunet's personalized and attentive approach speaks volumes.
Jérémie Brunet's tips
Upcoming trends: A more refined style. More and more, people are taking into account a product's quality and its distinctive flavours, rather than just looking at how much it costs.
Piece of advice: Use good-quality ice. Here, the ice is frozen twice, so it's drier and doesn't dilute your drink as much.
Flavour of the year: Amaro. Some people are a bit hesitant when it comes to a bitter profile, but they quickly change their minds — bitter cocktails are refreshing and not too sweet.
Secret ingredient: Bitter liqueur. We tend to forget just how much one or two drops of bitters can completely transform a drink.
Quick and easy cocktail: Our Topelamericano. Simply muddle a few orange slices in one ounce of Campari and one ounce of red vermouth, then add some ice and 3 or 4 ounces of Pilsner.
Frullato Brew
Ingredients
45 mL (1 1/2 oz) bitter liqueur (like Amaro)
15 mL (1/2 oz) banana liqueur
15 mL (1/2 oz) rye whisky
30 mL (1 oz) fresh orange juice
75 mL (2 1/2 oz) of 2% milk
45 mL (1 1/2 oz) cold-brew coffee
2 drops of Angostura
Ice
Preparation
Pour all ingredients into a shaker. Shake vigorously, then strain into a glass filled with ice.
Note: For vintage products, the vintage in stock may differ from the one displayed.
Reduced prices do not apply to SAQ Dépôt stores unless expressly stated to the contrary.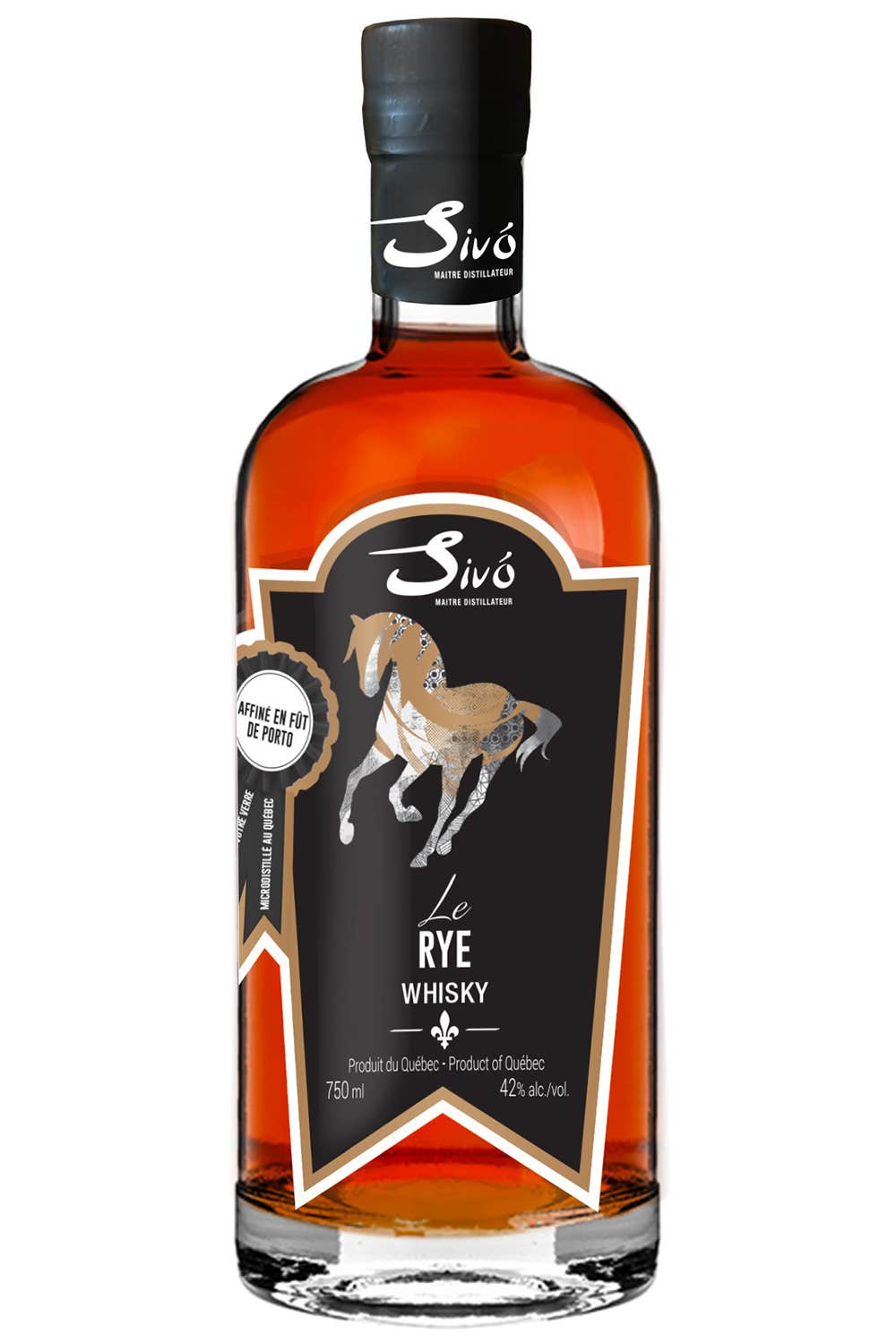 Sivo Le Rye
$46.25
750 ml
Canada
SAQ code : 13566804
Note: For vintage products, the vintage in stock may differ from the one displayed.
Reduced prices do not apply to SAQ Dépôt stores unless expressly stated to the contrary.
Photos: Julien Faugère
Make-up: Nathalie Dodon