She's rather subtle, Fanny Ducharme – as is her restaurant, L'Épicurieux, that she opened with pals Dominic Tougas and Maxime Laverdure a scant two years ago. It's nearly hidden in a canoe-kayak rental centre, and if you blink while driving on Rue de l'Eglise, you might miss it.
Humble almost to a fault, the young chef has every reason to brag! Her charming restaurant on the edges of Rivière du Nord has won the hearts of gourmets. The little restaurant is often sold out; among the reasons why are her use of local products and seasonal recipes and above all her dishes that burst with freshness, flavour and originality.
"Normally, the starters are more eccentric. Now, all of our dishes are a bit like that, and I do plan and consider every single one of them. In the end, you get small, gourmet dishes that also have some coolness," she says while revealing some of the menu: curried squash, chickpeas, golden raisins and labneh; octopus, scallops, potatoes, leeks, capers and anchovies; baby pork osso buco, tomatoes, polenta and Parmesan; dates, olive oil and ginger… and that doesn't even include the chef's exquisite specials of the day.
Trendy tapas
Embracing eccentricity was a measured process. "We began with the traditional first course – main course – dessert formula and it worked. Then we wanted to experiment a little and find our own cooking style and 'voice'," explains Ducharme. When their customers responded with eagerness, the trio had no choice but to let their rebellious creativity soar and changed the menu completely: no more huge dishes – instead a focus on small, shareable dishes.
For Chef Ducharme, it was an answer she'd been waiting for. She overflowed with energy and creativity, as did her kitchen, and as a result, each mouthful has a distinct wow factor! "Her dishes are original and artistically presented – everything is there for a reason and every-thing is carefully thought out," explains Dominic Tougas, who unhesitatingly celebrates the Chef. "Without Fanny, the restaurant would never have reached the heights that it has."
Gourmet veggies?
Ducharme got her first real start in the kitchen of famed Cabane à sucre Au Pied de Cochon, and now puts her heart and soul into the pint-sized resto that Tougas established. "I always wanted to have my own restaurant but I didn't think it would happen so fast, at 25 years old!'" she admits. "At times, I wondered if I was really up to the challenge."
As it turns out, she was ready– and even more than ready. Customers come from every-where to taste her kitchen's creations, and this, despite a decrease in meats and an increase in vegetables and vegetarian dishes. "For a lot of people a 'meal' is a steak, some veggies and a starch. I like to replace meat with a vegetable. Sure, some people are a bit surprised, but it works."
La sous-chef Arianne Faucher l'assiste dans la création culinaire. À deux aux fourneaux, les filles «rockent la place»! «C'est un bel accomplissement, je suis fière de nous. Surtout que les femmes sont encore peu nombreuses en cuisine», observe Fanny. La chef puise d'abord dans la cuisine comfort food de ses parents. Elle s'inspire aussi des dernières tendances en restauration et des publications d'Instagram pour «déjouer» les ingrédients. Les garçons en salle font les goûteurs. «Les filles ont vraiment du plaisir, confirme Dominic. Je les vois en pleins préparatifs et ça fait des feux d'artifice! On sait que le plat se retrouvera le soir à l'ardoise.»
Sous-chef Arianne Faucher assists in culinary creation. The two make a dynamic duo in the kitchen! "It's quite the accomplishment, and I'm proud of us – particularly because there's still so few female chefs in the kitchen," notes Ducharme.
For ingredient inspiration, Chef Ducharme explores the comfort food of her parents' house, as well as the restaurant industry's latest trends and Instagram posts. The staff are the guinea pig taste-testers. "Fanny and Arianne have a ball. I see them preparing things and the two of them are incredible together. When that happens, you just know the dish will end up on the menu," says Tougas.
Often the kitchen's offerings recall nostal-gic, favourite meals: fried smelt à la fish and chips, with a fennel-and-grapefruit salad side dish, whose acidity beautifully cuts the batter's fattiness. "By combining unexpected ingredients, I want my dishes to be an experience, be memorable. Something delicious absolutely has to happen," exclaims Ducharme.
The dinner plan: Five-course meal with wine pairings, Wednesdays and Thursdays from 5 p.m. ($30 per person.)
Celeriac purée with hazelnut salsa
4 servings
Hazelnut salsa
1 clove garlic
125 mL (1/2 cup) pitted
Kalamata olives
250 mL (1 cup) olive oil
250 mL (1 cup) shelled hazelnuts
1 pinch salt
Celeriac purée
1 celeriac
1 L (4 cups) milk
125 to 250 mL (1/2 to 1 cup) 35% whipping cream
15 mL (1 tbsp) salted butter
1 pinch salt
1. Peel celeriac, cut into small pieces and cook in milk. When thoroughly cooked, remove pieces from milk and place in a Vitamix mixer with some of the cooking milk. Add the whipping cream, butter and salt. The consistency should be thick, and not too liquid. 2. Chop garlic and Kalamata olives, mix with olive oil and add salt. 3. Crush hazelnuts and place in oven for 10 to 15 minutes at 190 °C (375 °F). Once golden, remove from oven and combine with the olive oil, Kalamata olives and garlic mixture. 4. Portion celeriac onto four plates and serve with hazelnut salsa as entrée.
What to drink with this purée
This excellent Californian Chardonnay is made by winemakers with a deep respect for the environment. Bonterra pairs beautifully with this dish thanks to its empyreumatic notes (crème brûlée, roasted hazelnuts) and buttery flavour that bring out celeriac's rich, creamy texture. The subtle wood notes deliver a long finish.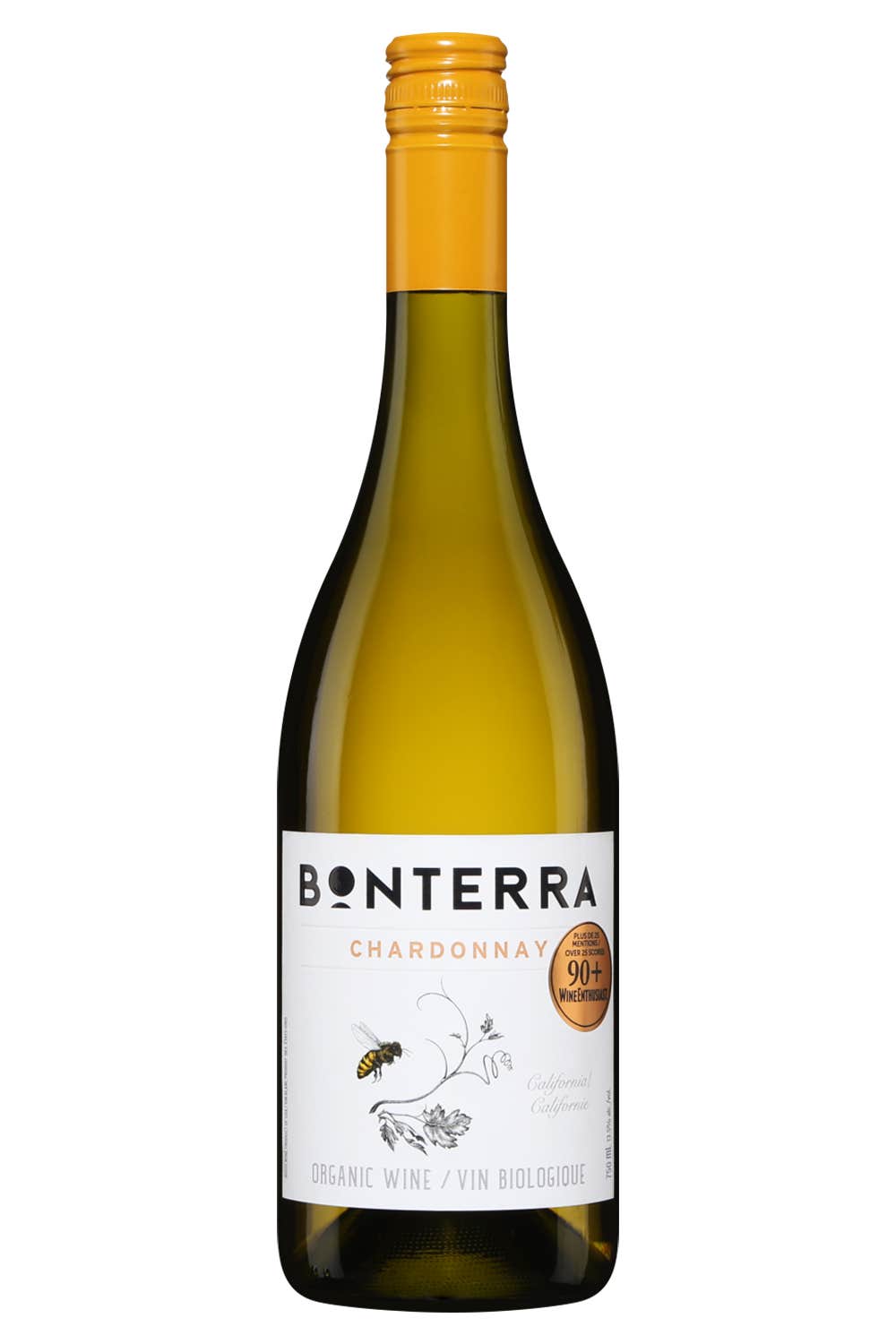 Bonterra Chardonnay 2019
$19.00
750 ml
United States
SAQ code : 342436
Note: For vintage products, the vintage in stock may differ from the one displayed.
Reduced prices do not apply to SAQ Dépôt stores unless expressly stated to the contrary.
PHOTOGRAPHY: Julien Faugère