As soon as you walk into Le Géraldine, you feel as though you've stepped into an enchanted forest. The ceiling is adorned with moss and plants. Tables are gracefully clothed in white, complete with mix-and-match dishes and cutlery. The scene is set: diners are in for a meal of fun, rustic offerings, made totally in-house and using only local products.
"The region is so beautiful that I try as much as I can to use its products  — from Oka, Saint-Joseph-du-Lac, Deux-Montagnes, Mirabel. In the mornings, I stop at local farms to get our game meat, lamb, pork, cheese, apples and haskap berries," notes Robillard, who's done business with nearby producers and farmers since the restaurant opened in Saint-Eustache two years ago.
A self-taught chef
No one would have ever guessed that he would have his very own establishment — the Montréal delinquent who left his parents at the tender age of 11, lived in a youth centre, then as a teenager was taken in by his grandmother Géraldine. At 15 years old, he took off on his own and learned about good food, before settling in Mont-Tremblant. "I was a barman, a waiter, then a cook. I learned how to use a knife and how to clean a fish by watching TV shows," says Robillard.
Filled with determination and talent, he paid his dues at Aux Truffes (now closed) under chefs trained at prestigious culinary schools. "I was responsable for vegetables and starches. I learned so much back then!" Robillard reminisces.
Thomas Keller's The French Laundry Cookbook that he received as a birthday present changed his life completely. "I  read every single word. That's when I truly fell in love with cooking and became a humble student," he says with a wide smile. Even today the book remains his favourite —though some 600 others have competed for the honour. "I like reading about chefs, learning their life stories. It helps me to understand ingredients and makes me want to try new things."
Try, fail, try again: This simple formula has led Robillard to learn that simplicity often provides the absolute best results. Once he became a chef, he started a catering business, then was at the helm of Restaurant Royal Laurentien, and then the restaurant at the Club de Golf Le Fontainebleau (now known as Rosemère). It was at that point that he heard about a century home that was for sale in Vieux Saint-Eustache. "I'd never really been there — well, just for apple picking. I went with my girlfriend, and we were charmed," he laughs.
Géraldine's family
A few of his former colleagues have followed Chef Robillard's culinary adventures, and the fishing nets and lobster cages that once hung on the walls of a former seafood restaurant have been replaced by a Boreal forest. All this in the image of a grandmother "…who gathered and kept family close." Robillard's restaurant is a place where a similar warmth reigns. "My grandmother wasn't the world's best chef, but she's influenced me the most. Our team, we're more like a family."
Customers, too, are treated like family. Each night after dinner service, Chef Robillard strolls around the dining room to chat. "I welcome them, I know their names." He also likes to surprise his coveted diners with "exclusive" or rare products from all across Quebec: ox-eye daisy capers, Chinese artichokes, parsley root, bilberries and "high-bush cranberries," Boreal spices such as juniper berry, alder pepper, bayberry or even chaga mushrooms.
The restaurant has a discovery menu (with three shared services) or a tasting menu (five services) — and either one will keep people guessing. "Customers never know ahead of time what's going to be on their plates. The menu changes every week, so they'll never eat the same thing twice!"
Confit pork flank with apple-fennel jam
Preparation: 30 minutes
Refrigeration time: 18 to 24 hours
Cooking: 6 hours
Cost per serving: About $7
6 servings

Brine
500 mL (2 cups) brown sugar
250 mL (1 cup) kosher salt
6 bay leaves
1 sprig rosemary
10 mL (2 tsp) whole black peppercorns
10 mL (2 tsp) curing salt (optional)
2 L (8 cups) water
Confit pork
1 piece pork flank about 1 kg (roughly 2.2 lb)
6 cups (1.35 kg) duck fat (or lard)
1. Brine: In a pot, bring all brine ingredients to a boil. Ensure that the brown sugar and salt have dissolved in the mixture. Refrigerate and let sit for at least 6 hours.  2. Place the flank in a large container and cover with brine. Refrigerate for roughly 12 hours. Do not leave the meat for longer than 12 hours, or it will become too salty. 3. Confit pork: Preheat the oven to 135°C (275°F). Remove pork from brine, rinse well, and dry with a towel. 4. Place the pork on an ovenproof plate. Coat in duck fat and then cover with aluminum foil. 5. Cook for roughly 6 hours, or until the meat is tender. 6. Remove from oven and let cool to room temperature. 7. Remove duck fat from the meat (you can reserve the duck fat to use again later), and place meat on a baking sheet or plate. 8. Put plastic wrap over the pork, place another baking sheet or plate on top, and a heavy flat-bottomed pot or large can of tomatoes over that. This pressure will help remove excess fat from the meat, and make a more attractive presentation. Refrigerate for about 12 hours.
Serving
Preheat oven to 200°C (400°F). Cut the flank into squares of roughly 5 cm (2 inches) each. Place the squares on a baking sheet covered with parchment paper and glaze with the remaining apple syrup. Cook in the oven for approximately 10 minutes. On a plate, artistically spread some of the apple jam, then place a cooked flank piece on top.
Fennel and apple jam
1 fennel bulb, finely diced
6 medium Cortland apples
375 mL (1 1/2 cups) + 125 mL (1/5 cup) sugar
750 mL (3 cups) water
50 g (2 oz.) butter
1. Peel apples. Set aside skins and cores. Cut apples into small cubes and cook over low heat with butter, ½ cup of sugar, and fennel. 2. Simmer until apples are tender, but not browned. Set aside 3. Place apple skins and cores in a pot filled with water. Bring to a boil and let boil 15 minutes. Remove from heat, cover and let sit overnight at room temperature. 4. In the morning, bring water to a boil again. Boil 1 minute, then strain through a sieve, keeping only the liquid (apple juice). 5. In a pot, combine apple juice and 1½ cups of sugar. Let simmer over medium heat until you obtain syrup thick enough to make jelly. 6. Once desired texture is obtained, combine ¾ of the syrup mixture with the apple and fennel. Let cool.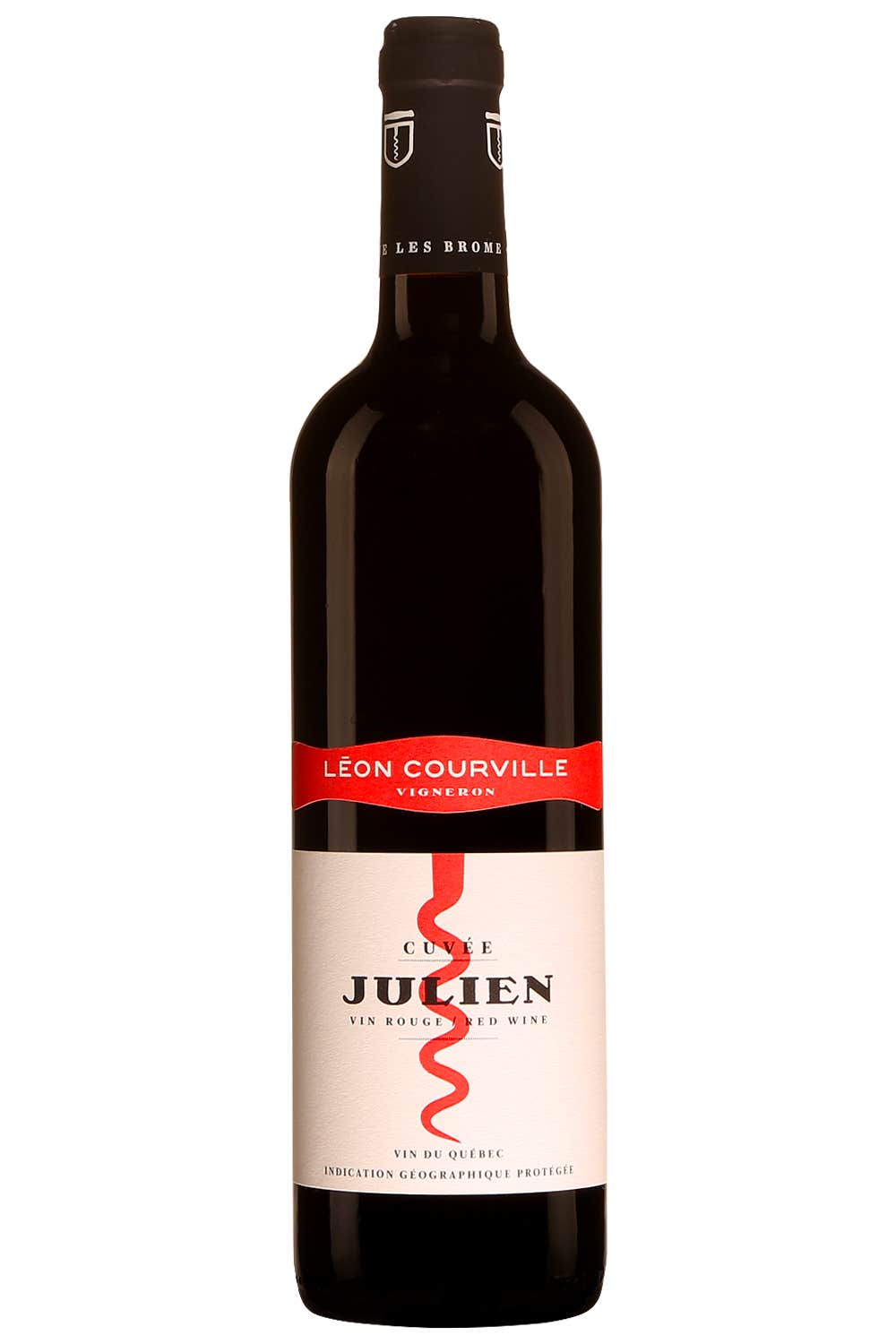 Léon Courville Vigneron Cuvée Julien 2019
$16.50
750 ml
Canada
SAQ code : 10680118
Note: For vintage products, the vintage in stock may differ from the one displayed.
Reduced prices do not apply to SAQ Dépôt stores unless expressly stated to the contrary.
Tip
Chef Olivier Robillard and his four sommeliers are pleased to provide wine pairings to diners upon request (by telephone or email).
Photos: Julien Faugère
Make-up: Nathalie Dodon