Shrimp ceviche, crab and chorizo tacos, alfajor pastry… from appetizer to dessert, all Grumman '78 dishes are made with local ingredients and served with a smile in eco-friendly containers. Inside the former fire department mobile command centre (purchased on Kijiji), the cooks prep their ingredients as hungry customers look on.
In the small space that is Grumman '78, every member of the team has an important role to play, from taking orders (you'll hear cheerful shouts of "three tacos, two juices, one dessert!"), to cooking food and garnishing it, to handing over the tasty goods. All this to the steady rhythm of three clients per minute! "We move around as little as possible and maximize our actions as much as possible," explains Sébastien Harrison-Cloutier, chef at Grumman '78 and the guy who spent three summers at the truck's stovetops.
Organization is key
Today, Harrison-Cloutier spends most of his time at the Saint-Henri restaurant, but he still hires and manages the teams who take to the streets during the summer months. Each time an occasion arises—a big event, festival or wedding—Harrison-Cloutier hops on board the food truck and makes sure everything runs smoothly. "The truck needs to be extremely organized; we need people with solid chef skills, impeccable social skills, a driver's license… and some understanding of auto mechanics," laughs the head chef.
It's this dose of adrenaline that constantly motivates the talented and organized young chef to stay focussed and driven. From his very first gig on board the food truck Pas d'Cochon Dans Mon Salon, to his current position with Grumman '78, Harrison-Cloutier has always given it his all: "Every day is a challenge. At night I'm always thinking about what we can do the next day to make things run more efficiently, more quickly."
A day on board Grumman '78
Each day begins the night before! The menu needs to be decided, ingredients need to be prepped, equipment put in place then the truck is loaded in the wee hours of the morning and everything is double-checked. "The dishes are finalized in the truck, but the brunt of the work is done ahead of time, in the restaurant's kitchen," explains Gaëlle Cerf, co-owner of the Grumman '78 brand.
King of the road
Grumman '78 is a Mexican-inspired restaurant that has been largely credited with introducing the food-truck craze to the city of Montréal some eight years ago. That first summer, the Grumman '78 truck stayed inside an old garageturned into a professional kitchen. (The tire tracks are still visible!). "That summer, we hit up Just For Laughs and Festival de Jazz. It's what put us on the map," recalls Cerf and co-owner Hilary McGown. In the wake of their summer success, the owners decided to permanently cruise the streets and began campaigning for the right to own and operate food trucks in Montréal.
Diversity, quality, originality
In 2012, Cerf joined forces with Guy Vincent Melo and together they founded l'Association des restaurateurs de rue du Québec (ARRQ), an organization over which Cerf currently presides. Today, the selection of food trucks cruising the Montréal streets is practically endless: Indian, Asian, Italian and Greek, deluxe poutines, smoked meat, cheese, lobster rolls, ice cream, sweet treats, crepes, poké bowls, burritos… and the list goes on!
"Food trucks are very much in demand, at festivals and during private events," explains Cerf. Grumman '78 has certainly had its fair share of mishaps—a generator malfunction, a ruined electrical circuit, heat waves to contend with—but the good times outweigh the bad, through friendships and laughter. "Working side by side, you form lasting bonds," says Harrison-Cloutier. "Whenever a problem arises, everyone bands together to help solve it. And if the lineup of customers seems never-ending, we make sure everyone is having a good time while they wait!"
First fridays
If there's one event that's sure to please all the foodies out there, it's First Fridays, proudly sponsored by the SAQ. This, the largest gathering of Montréal food trucks, is back for its eighth year. Located at Olympic Stadium Esplanade Financière Sun Life, the popular event takes place the first Friday of every month from May to October (from 4 p.m. to 11 p.m., free admission).
With a sprawling 2,000-person terrace, popular bands and DJs, refreshments and, of course, BISTRO SAQ, this event is the perfect place to eat, drink and be merry with family and friends!
Salsa Verde Chilaquiles
Preparation: 20 minutes
Cooking: 45 minutes
Cost per serving: about $3
4 servings
Salsa verde
1 large onion, diced
6 cloves garlic, chopped
2 poblano peppers, washed and seeded
1 kg (2 1/4 lb) fresh or canned tomatillos, crushed
1 dried ancho pepper, rehydrated
15 mL (1 tbsp) Worcestershire sauce
15 mL (1 tbsp) honey
1 small bunch coriander, chopped (reserve some for use as topping)
Salt and pepper, to taste
4 large handfuls tortillas chips
Toppings
100 g (3 1/2 oz) grated cheddar cheese
100 g (3 1/2 oz) grated mozzarella cheese
1/2 red onion, finely diced
4 eggs
1. Preheat oven to 200°C (400°F). Place garlic, onions and poblano peppers on a baking sheet, and roast for 20 minutes. 2. Place tomatillos and ancho peppers in a blender, and blend until it becomes a smooth sauce. 3. In a large ovenproof pan, mix the roasted vegetables with the tomatillo sauce, and place pan in oven at 175°C (350°F) for 20 minutes. 4. Remove salsa-filled pan from oven, adding in Worcestershire sauce, honey and coriander. Season with salt and pepper, and set aside. 5. In a different pan, fry eggs. 6. Pour hot salsa into a large bowl. Add both cheeses and tortilla chips, mixing so the salsa coats the chips well. 7. Distribute among 4 plates, garnish with coriander and red onion, and top each plate with a fried egg.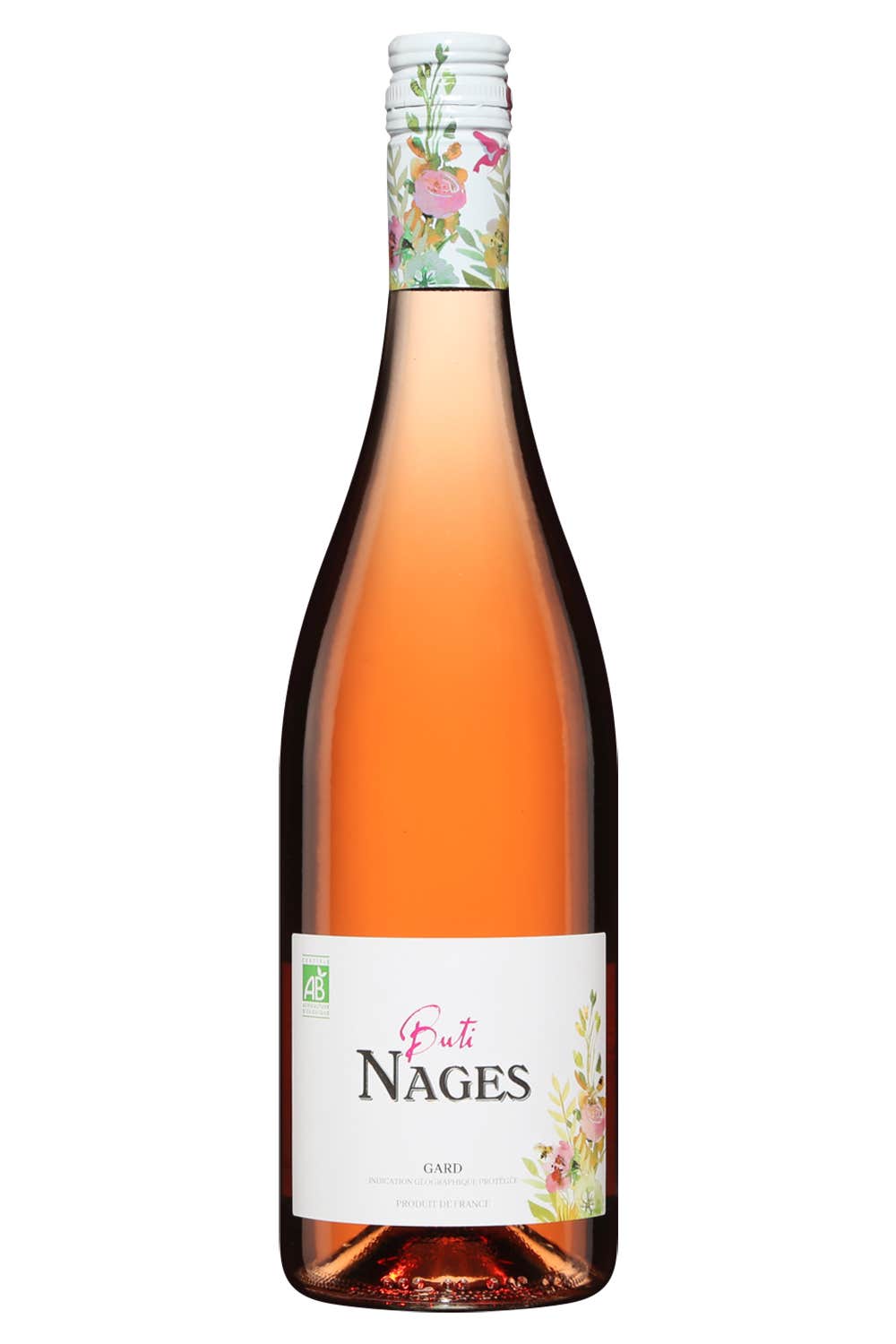 Buti Nages
$14.95
750 mlFranceSAQ code : 427625
Note: For vintage products, the vintage in stock may differ from the one displayed.
Reduced prices do not apply to SAQ Dépôt stores unless expressly stated to the contrary.
Photos: Julien Faugère