Microbreweries started the trend by adding coffee to their beer recipes. Following suit, national cocktail competitions, like Made with Love, began adding a barista category to their programming. Even Nespresso's gotten on board by introducing a wide variety of coffees that mix well with cocktails and posting multiple drink recipes on their website.
"Incorporating coffee into cocktails was just the next logical step in our quest for new discoveries," points out Katrine Gouron, Coffee Ambassador for Nespresso Canada. "Plus, it's a great way to promote the much-loved beverage. You can mix it with gin or tequila for a refreshing drink that highlights the bitter and earthy aromas of the coffee, or create a more intense cocktail with notes of caramel by combining it with whisky or rum."
For the love of coffee
An average Canadian drinks 152 litres of coffee per year, making us the third biggest coffee drinkers in the world, just after Finland and the Netherlands. We're also among the biggest coffee consumers outside our homes; with the proliferation of baristas and specialty cafés, the gourmet coffee trend is definitely on the rise.
Maelstrøm Saint-Roch, a café/bar located in Québec City, is open for business morning and night. In the AM, customers drop by for a cup of coffee, while in the evenings they get to choose from a vast selection of drinks, many of which are made with—you guessed it—coffee! "We're experiencing a new surge in all things coffee. People are interested in knowing where their coffee comes from, what type of grain is used, how it's roasted, they want to discover coffee's large spectrum of aromas. We love our coffee like we love our wine; it's intricately linked to our olfactory/gustatory memory," explains bartender Pascal Audet.
Coffee-cocktail
Alcohol-based coffees are a winter classic. Traditional Irish coffees, as well as Brazilian ones, have always been popular picks, but a new trend has been brewing for a few years now. Mixologists have started to add coffee to some of their lighter, more refined recipes. Served hot or cold, coffee-infused cocktails are generating a whole lot of buzz. Usually reserved as an end-of-meal libation, they can also be enjoyed as an aperitif. Pascal Audet's top pick is a Negroni Nero: "Gin, Campari, and Vermouth; the sweetness of the Vermouth is really heightened by the coffee."
Coffee deliciousness
Each fall, Fanny Gauthier, co-owner of Ateliers & Saveurs, a school specialized in cooking, wine, and cocktails, offers a cocktail workshop centred around java. According to this seasoned mixologist, coffee can be enjoyed in cocktails, hot or cold, with or without alcohol. "Certain aromas develop more deeply when a cocktail is served cold," says Gauthier. "It allows us to discover a second layer of flavours." And as for what blend to use? "Use whatever you have on-hand. Flavoured capsules are a huge time saver." Pascal Audet recommends using a pale roast, as it'll exude more flavour.
Perfect pairings
Coffee just naturally goes hand-in-hand with certain spirits. Think coffee-based or citrus liqueurs, spiced rum, cognac, Cointreau, or vodka. As for aromatics? "Mint, hazelnut, Espelette pepper, maple syrup, vanilla, and caramel are all delicious options," summarizes Fanny Gauthier.
Holiday-cheer coffee
1 drink 
Ingredients
45 mL (1 1/2 oz) maple cream liqueur
45 mL (1 1/2 oz) 2% milk
1 pinch cinnamon
1 pinch ground ginger
1 Nespresso Roma capsule (espresso format — 40 mL)
Whipped cream 
Preparation
Heat the milk and spices. Add the maple cream liqueur and stir. Pour the hot milk over the Roma espresso. Top with whipped cream.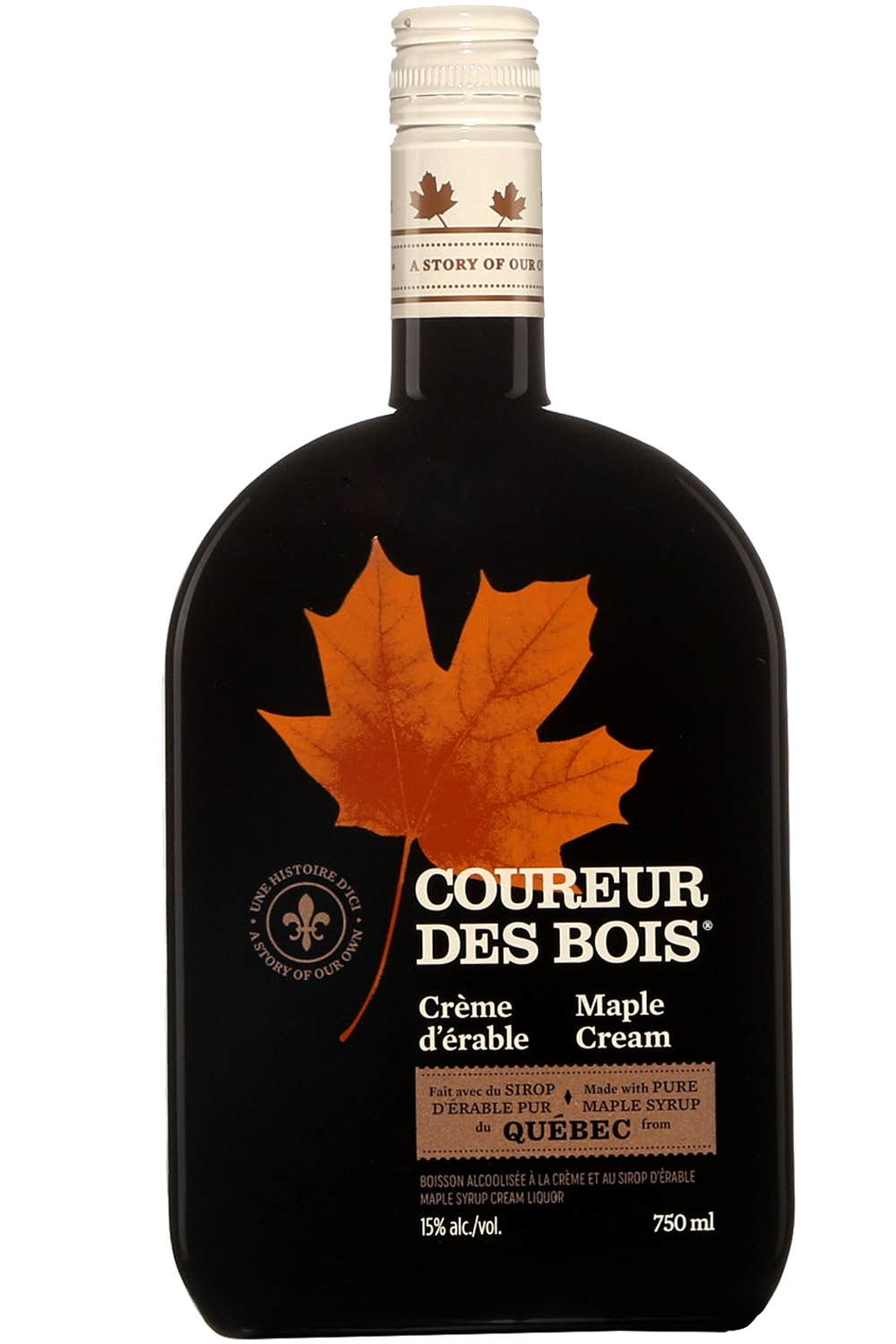 Coureur des Bois
$29.90
750 ml
Canada
SAQ code : 11091921
Note: For vintage products, the vintage in stock may differ from the one displayed.
Reduced prices do not apply to SAQ Dépôt stores unless expressly stated to the contrary.
Photos: Ariel Tarr